Only in English today, as I'm so lacking in time! Maybe the German version of this post will follow.
Lately, there haven't been many new patterns around here. Gradually, I'm rediscovering my tried-and-true patterns, and it's really fun to be able to sew without a hitch.
I needed a new set of pajamas, especially one for the summer. I was eager to finally sew the short version of the Carolyn Pajamas by Closet Core.
During idle scrolling through feeds, while sleep accompanimenting the toddler, I stumbled upon this incredibly cool fabric. I mean, there are raccoons on it! Raccoons in watercolor! Plus, there is another colorway with watercolor foxes and watercolor owls (they appear to be sold out, unfortunately)! I don't need to mention that all of them found a home with me, do I? The foxes have already become curtains for the little one's new nursery (which is still entirely unused, serving only as a storage room).
While I was on the hunt for suitable fabric for the piping, I came across this black viscose linen, which ultimately became my choice. I had the idea of sewing another top to go with the pants, but this time in black linen, sleeveless, and with raccoon piping and pockets. Unfortunately, I didn't have enough fabric for that, but the idea is still there!
The pattern matching worked surprisingly well, considering that I only paid attention to the center front. I did take a rough look to make sure the pants fit reasonably well, but I didn't put too much effort into it.
Adjustments
I had initially considered creating more room for the bum but thought 'It's probably fine.' I should have done it. And a bit more crotch depth. It was already an issue with my first Ginger Jeans.
The elastic waistband could have been a bit tighter; the pants tend to slip a bit. However, not enough for me to bother altering them yet.
I briefly skimmed through the post of the previous version, but I neither tried it on again before sewing nor read it attentively. So, the bust dart is in the wrong place again.
I'm still experimenting with buttons. Here, I've attached small jersey snap buttons. The original plan was to sew regular buttons over them and conceal the snap buttons, but maybe I'll leave it as it is. I actually quite like the colorful buttons now.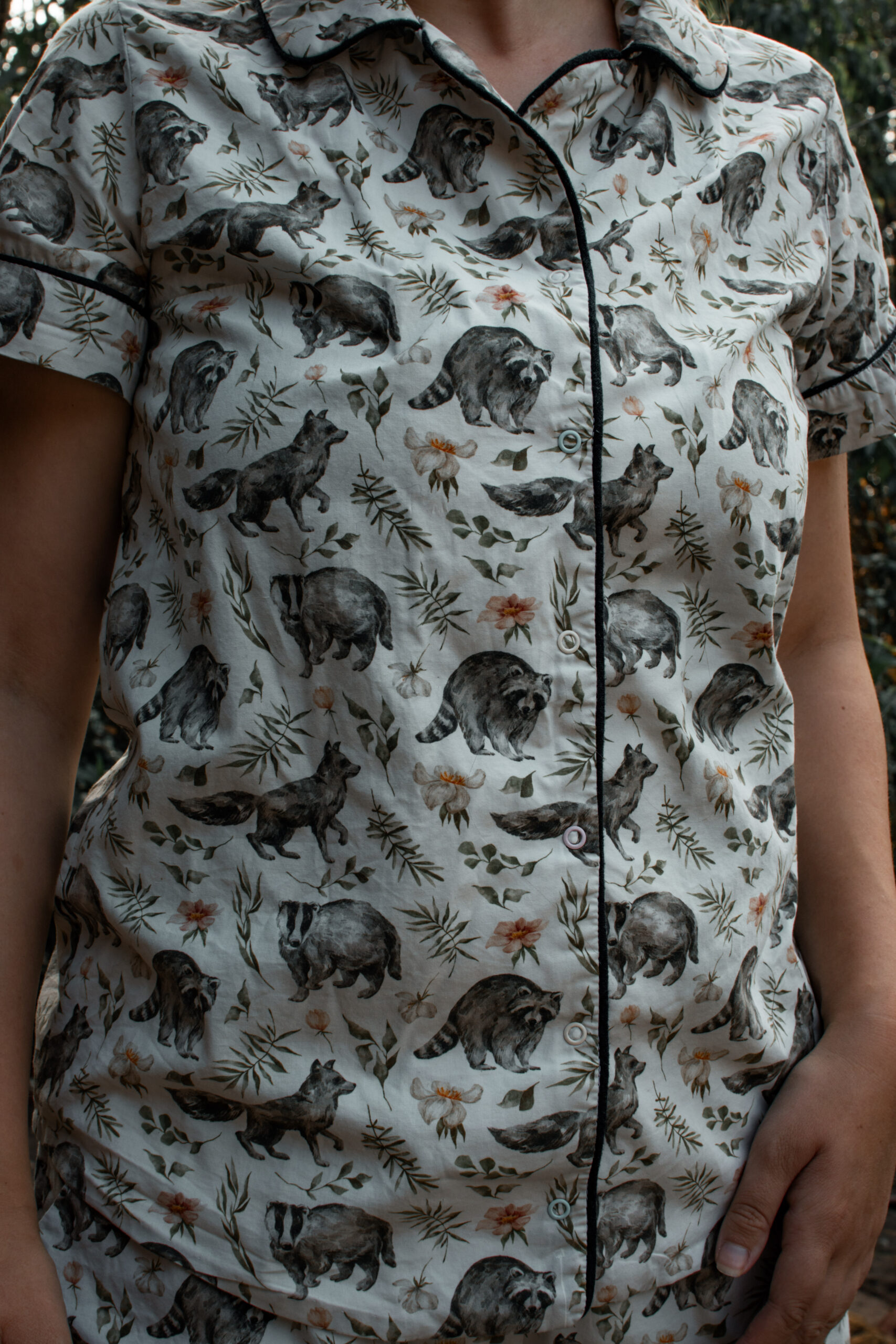 Unfortunately, these had to be attached multiple times because they kept falling off. I hope I'm gradually getting the hang of it; so far, all the others have stayed on.
I also shortened the armhole here. I don't love the range of motion in the original version, it feels a bit restricted. In my opinion, for pajamas, the drape of the sleeve has lower priority, but I want to be able to move comfortably in them. I really like it this way.
What's always a problem, though, is the button placket facing that tends to crumple up. I have hand-sewn it down by now. Although it's attached in the seam at the shoulder and hem, it just never seems to be enough.
Linked to MeMadeMittwoch