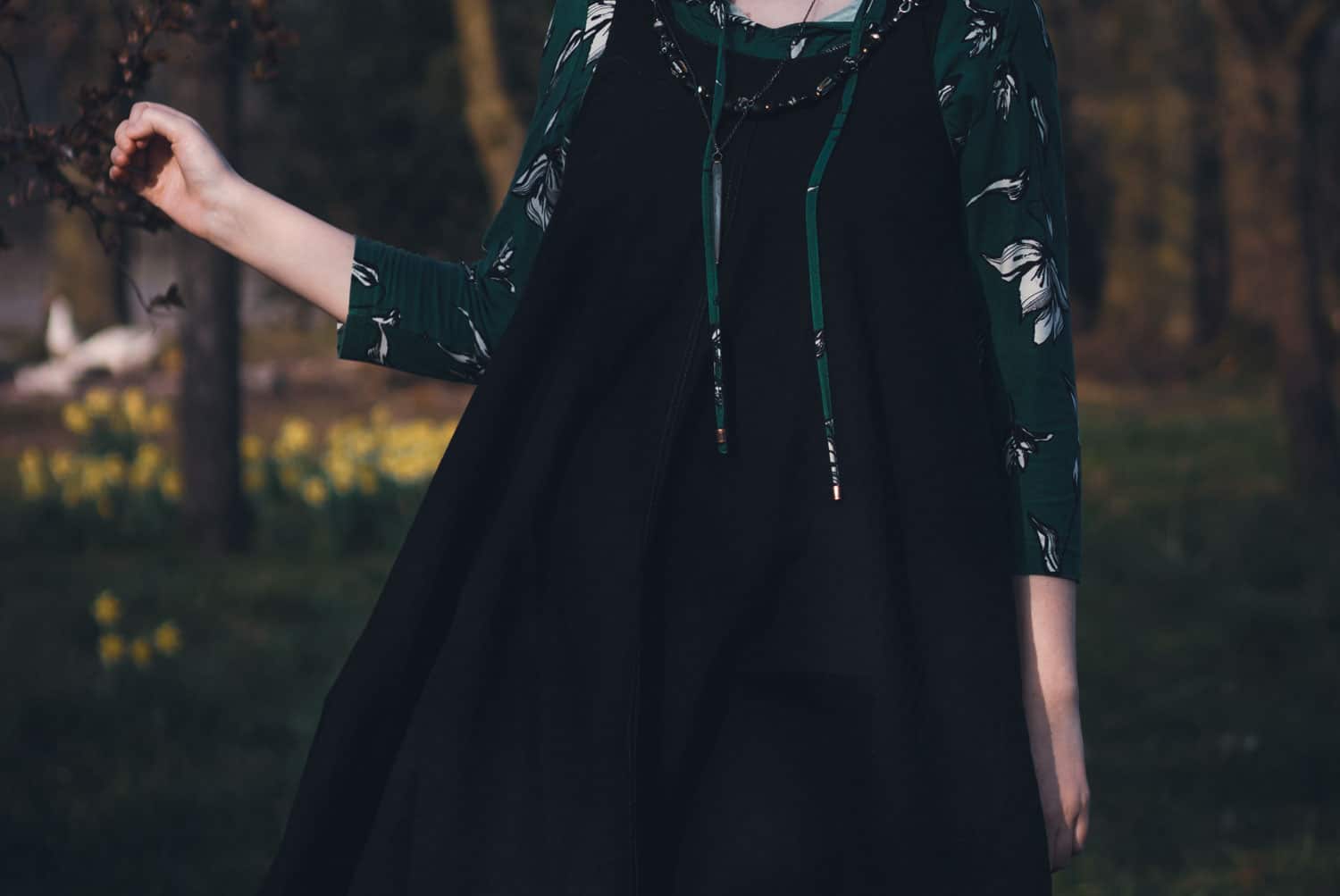 This post contains unpaid and unrequested advertising through brand naming and linking.
I've lost a bit of my sewjo lately, as I slightly suggested in the first post about FJKA (german only).
I also already suggested the reason for this – I'm pregnant! ?
And although it is a planned pregnancy, it threw me a bit off track – not just in terms of sewing. I've been feeling miserable the last few months, to say the least. But even apart from that, the situation overwhelmed me a bit. I tend to be prophylactically pessimistic sometimes and therefore hardly adjusted my (sewing) plans in case it took longer. So I didn't have had any plan either.
When at some point at least a small part of my motivation came back, my Pinterest account was spontaneously blocked. Or deleted? I don't know, I didn't even get a message. Maybe I pinned too much at once while filling a new board? No idea. Anyway, I've been prim since then and didn't feel like worrying about getting it unlocked again. Maybe it's too late for that now, I don't know. However, I'm noticeably lacking inspiration.
Basics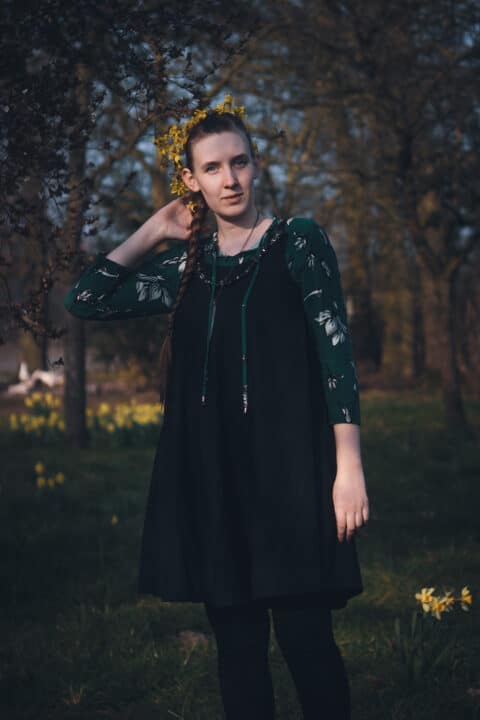 Idea
So I went through my offline list first. An apron-style dress was sitting on my list for quite a long time. I was particularly inspired by the typical Viking apron dresses. Also some nice loose summer dresses. The trapeze shape in particular had appealed to me for a long time (after I found it quite horrible a few years ago). Without the need to accommodate an ever-growing baby bump there in a few months, I would have preferred a slightly narrower trapeze. I have to say that I really like the end result. It's still a bit unfamiliar, but I like it somehow.
Pattern
Originally, I thought about self-drafting a dress, if only because I dreaded the marathons of adapting commercial patterns. But then I took the risk because this pattern doesn't offer too much of a target for my usual problems. Also, I know them quite well by now. It's sleeveless, relatively wide, and you stay with large pieces of fabric to continue working on if it should fail completely. So I decided to give it a chance. I simply didn't have the nerve to construct and just wanted to sew down a nice simple project according to the instructions.
Then the whole thing should also be suitable for breastfeeding in the future. Quite a lot of claims. At first, I was looking for trapeze dresses with button plackets, until I coincidentally came across the Ivy Pinafore by Jennifer Lauren Handmade. The buttons here are only decorations in the original, but this can be adjusted very easily. So my buttons are functional.
Adjustments
I actually took the risk of not sewing a muslin this time. I roughly compared the shoulder, armhole, and neckline area with the pattern for my moth top (german only) and basted the whole thing first. Except for some gaping at the neckline, it worked surprisingly well. For fixing this problem, I simply cut through the yoke once and took out some fabric in a wedge shape. Now I have a seam in the center front and back, but you can hardly see it and it doesn't bother me too much.
At first, I was a bit concerned whether an FBA wouldn't have made sense, because it seemed to me that the dress was much shorter at the front than at the back – almost too short. But maybe it was just the unusual length because now I think it isn't that bad anymore. I think there will be other shorter dresses in the future since I'm actually starting to like them more and more.
But it shouldn't have been any shorter and because I didn't want to lose more length, I just made a tiny little hem I sewed by hand.
The pockets are a bit larger so now my monster of a smartphone fits in without worrying about losing it all the time.
I don't know exactly what I messed up on the back straps. By original, they shouldn't be narrower than the front ones and certainly not that much. My only guess is that I messed up the seam allowances somewhere since they are different widths on the yoke strap pieces. This is briefly mentioned in the middle of the instructions – after all, the only point of criticism I can think of about the pattern. If you don't use the instructions, you might not even notice it. Since I only glanced through them and only ever sewed in small time batches, it may well be that I used the wrong seam allowance.
The original dress is lined. Since I wanted to have a simple summer dress (and also because I noticed it too late), I decided against it.
There can be found very good instructions on what to consider if you want to sew the pattern unlined on the manufacturer's blog.
My seams are French-seamed – even the pockets this time! Normally I shy away from French seams on in-seam pockets because I never get them quite neat. But the second one turned out to be acceptable this time – even if the first one was a bit of a struggle again.
The armholes are trimmed with bias tape, which I ordered from "das Blaue Tuch". I've been looking for a source for nice, soft bias binding for a long time – because there's nothing I hate more than making bias binding. Unfortunately, most of them are rather stiff and/or scratchy. But this one is really beautiful! Nice on the skin and soft – therefore not too stubborn to work with.
I only serged the yoke on the inside. In the meantime, I've given up a bit and decided to give jersey sewing another chance, but definitely not with the sewing machine anymore. That's why the lower edge of the yoke is now neatly finished with the bright white yarn that was on the overlock when it was delivered. Luckily nobody sees it and it doesn't add any bulk. But there will be more about that in the next post when I will introduce you to my first overlock project ;D
Conclusion
I am not totally sure about the shape of the neckline, yoke, and straps. The rounded shape seems a bit too cute for me. I find it quite nice on other people, but I'm not sure if it's right for me. Maybe the next one will have a slightly clearer/straighter neckline.
As far as decorations are concerned, I had to deviate a bit from my usual path this time. My standard ideas are embroidery, but the whole project was too experimental for me. In addition, I urgently needed suitable clothes, all my skirts have been feeling rather uncomfortably on my belly for weeks and hardly ever leave the closet anymore. Embroidering afterward is also not an alternative, because I like to hide the back of the embroidery as well as possible.
So I went for a simple solution and sewed on a nice pair of buttons. For a long time, I've wanted to either get some nice brooches or use buttons to hang a fibula chain on them. Of course, that suited this project perfectly, since I needed buttons anyways.
The chain is attached with two hooks, so I can also hang other necklaces on it, and it's easy to modify the whole thing. The chain and hook are simply removed for washing – and the buttons keep it interesting even without the chain.
Outfit
flower blouse – unknown | Fibula chain – MacciatoJewelry | Glass necklace – KATESHOfactory
Linked at MeMadeMittwoch