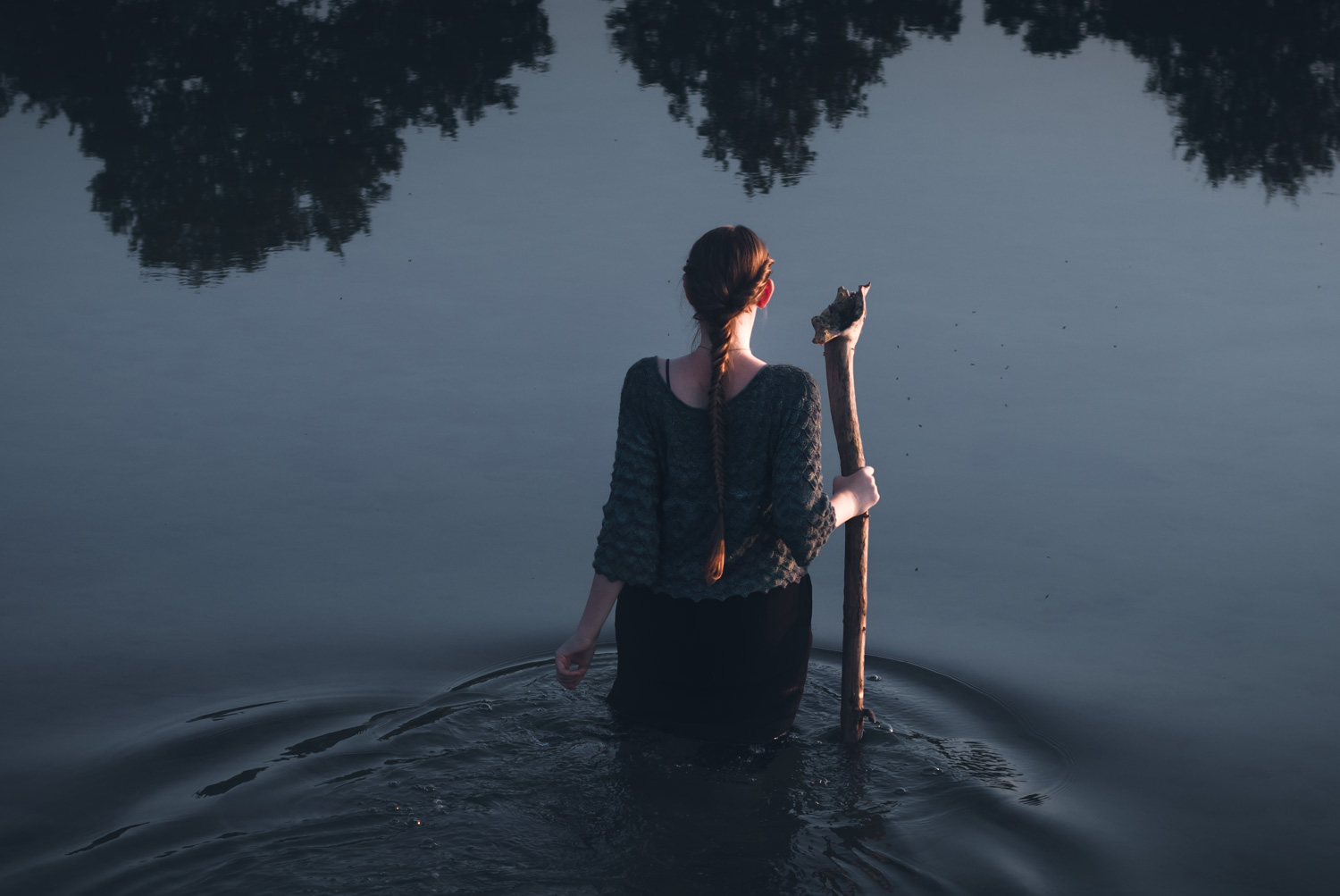 It took a long, long time but now I can finally proudly present it to you – the dragonscale sweater!
---
---
It was first mentioned almost exactly one year ago. At the beginning of this year, I dug it out and highly motivated unraveled it to the FJKA to start over. It was a fight. One who does justice to a dragon armor. I hated this project. Countless times I just wanted to give it up and even when it went off without any problems, the motivation was rather sparse.
But don't you do all of that for the end result? Was it worth? It was. I love this sweater so much that while I cast off quite annoyed, I decided that I absolutely needed a second version in dark gray. But with documentation this time.
That is exactly the main problem. I have no idea what I was doing. The vast majority of the sweater is improvised, using an eye-to-eye tactic without taking any too helpful notes. And I successfully suppressed the rest at the moment of casting off.
The Pattern
The scales themselves are knitted according to the instructions of the Imoogi: Dragon poncho from Lavish Craft, the row of large scales are taken from the Azure Dragon. The implementation as a sweater is then stolen inspired by this particular project. A bit of Strokkur was also mixed in as a guide for the yoke – simply because I still had it in my library.
The pattern seems a bit complicated at the beginning – and it is. In my opinion. Until I realized that it is actually only increases and decreases and yarn overs that are knitted shut and that are even explained with video instructions. However, I hate videos and ignore them with a lot of enthusiasm. Using your brain a little bit does not harm the pattern at all.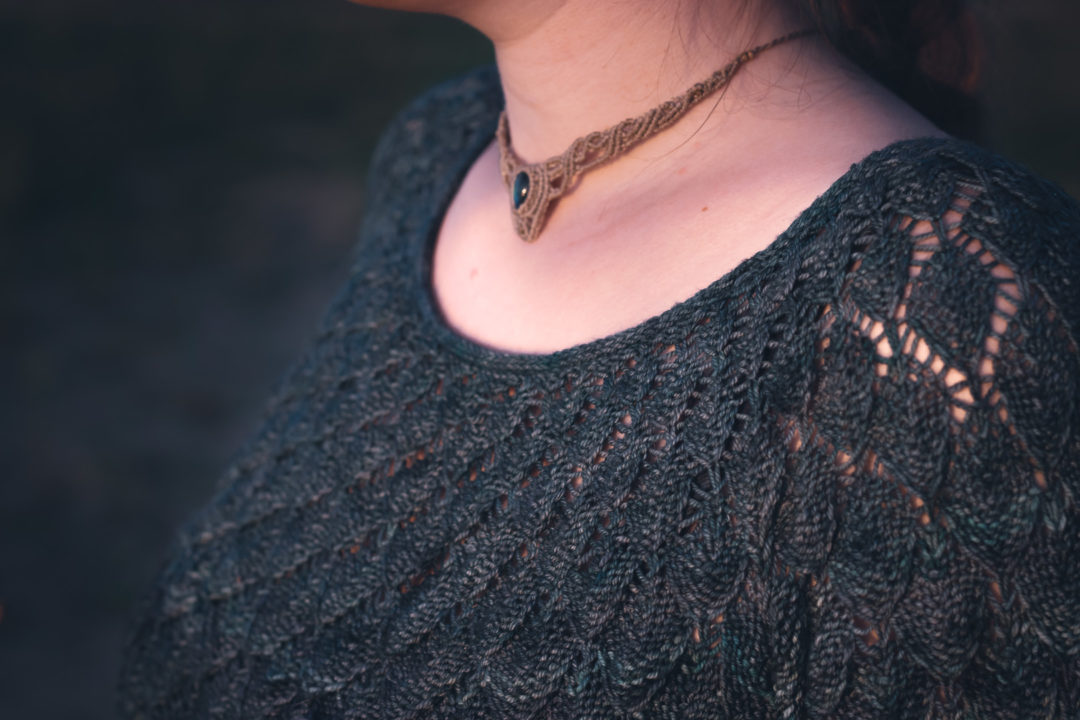 I could have made it easy for myself and just knit a straight tube. Actually, that was the plan, especially because it is not that easy to convert the scales into a specific number of stitches. Obviously that failed if you take a closer look at the width of the top. As a side info: I actually wanted Negative Ease. I don't know how that could fail so badly. I was blessing in disguise, because it looks pretty good.
In any case, I will not be fobbed off with something simple and still wanted to increase a few stitches for the bust width. Ignore the fact that the handful of increased stitches absolutely DON'T do any changes in the end result. At least it didn't occur to me to start short rows – I saved them for the neckline instead. As I said, unfortunately I can't reconstruct anything about it, but there will be instructions next time. Hopefully…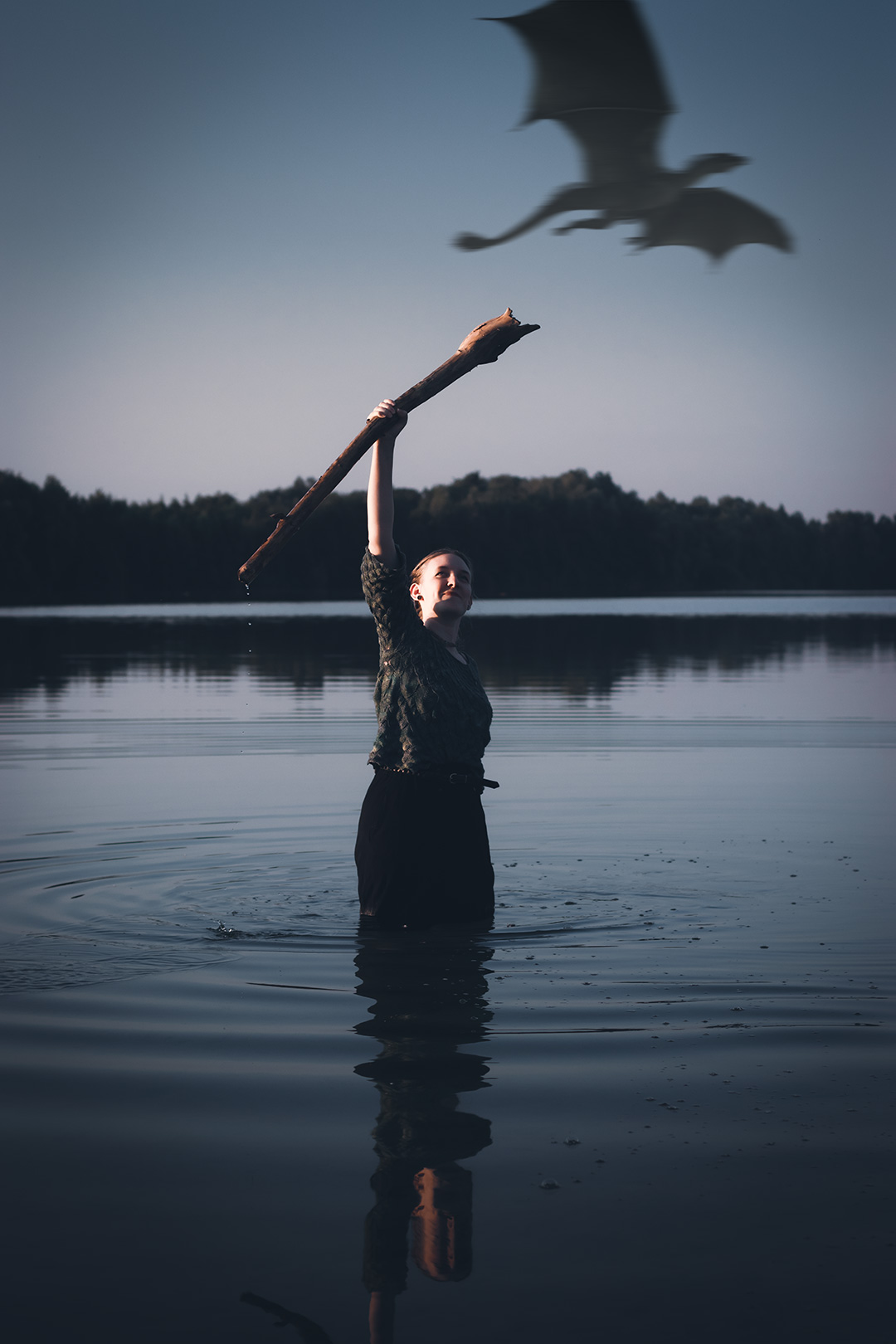 Wait, I just remembered one point! If anyone is supposed to do this madness to themselves, don't do the same mistake as me:
The Dragon Poncho becomes narrower towards the top. This is taken into account in the knitting pattern and therefore I could have taken the yoke part from the Dragon Proncho pattern
But because I'm stupid, I didn't use it. Instead, I used the Azure Dragon for the large scales and stayed with it and somehow screwed in the decreases myself. By the time I realized that, I was halfway through the yoke. So if you think about which of the two knitting patterns are more suitable, take the poncho .
Conclusion
Let's rewind to the beginning. I planned a close-fitting, waist-length sweater with 3/4 length sleeves. I got a hip-length potato sack, but at least the sleeve length is correct. And my goodness, that turned out to be awesome stuff. The fabric falls really soft and somehow drapey like I don't know it from knitted fabrics and when the sun shines it gets a really nice shine, while the scales become very plastic in softer light and the color changes depending on the light. That's why there's both today. This time my sister took the sunset pictures. Unusual to have someone else behind the camera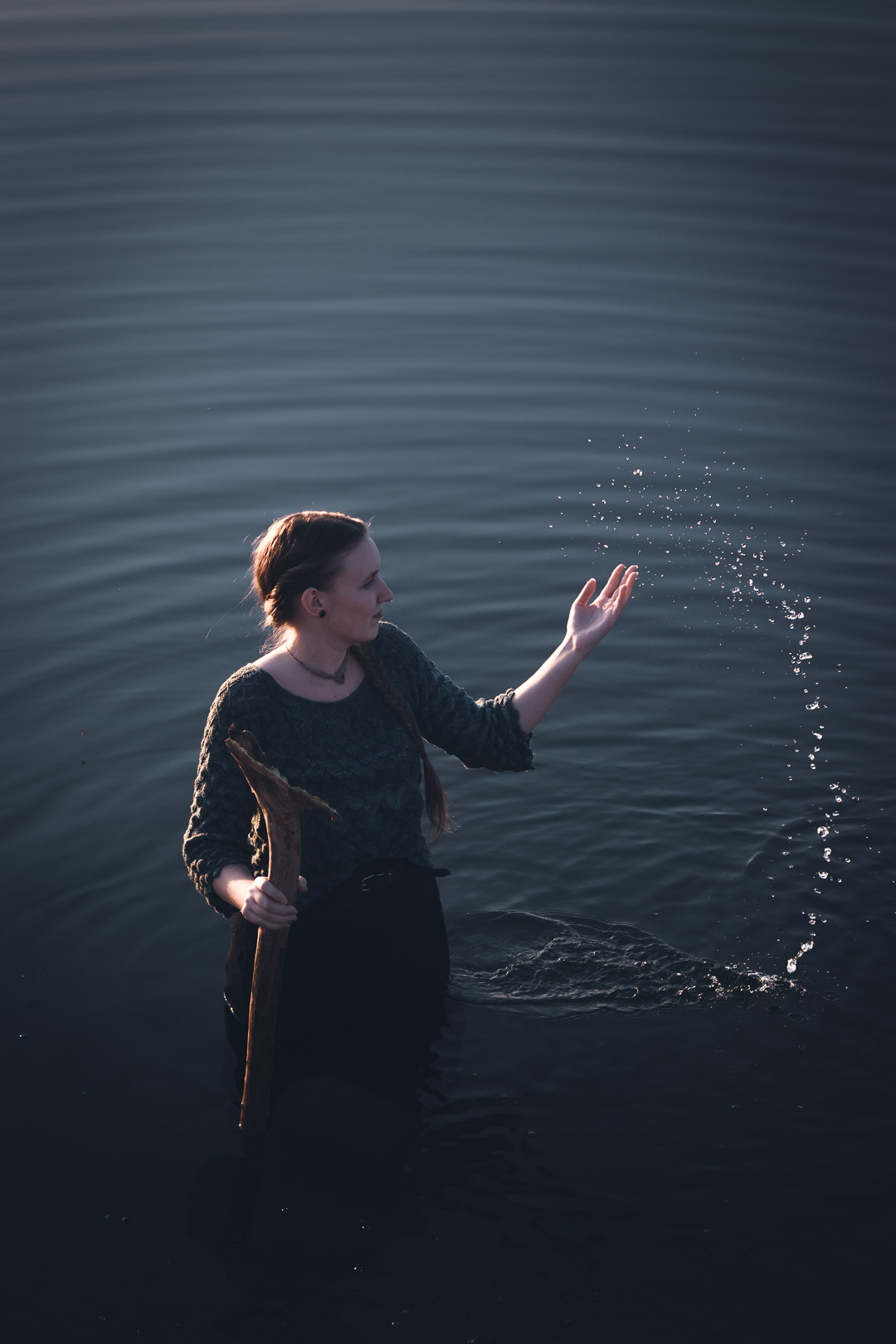 It is nice and airy (as there are holes in it) and at the same time pleasantly warm. Not suitable for a hot summer, but the perfect spring sweater. Well, there will definitely be another spring next year. Despite the wide sleeves it also fits under cardigans (and over turtleneck sweaters) and will probably not go to waste in the closet through autumn and winter. You can also wear it turned inside out (not always voluntarily), then it looks more like a shell pattern.
I now urgently need the right pants to wear it outside of the skirt pants. I don't think that's too nice with skirts, the length is just not suitable in my opinion, but the pointed edge would also like to be presented from time to time. I even think about buying a pair of pants again, because I really don't feel like having to deal with the adjustment of trousers at the moment .. but I don't really feel like doing the endless search either.
(It looks good with the faux leather skirt, but the skirt is just so damn short and still tends to crawl up that I rarely wear it in public)
By the way, taking pictures with my sister produces quite silly outtakes….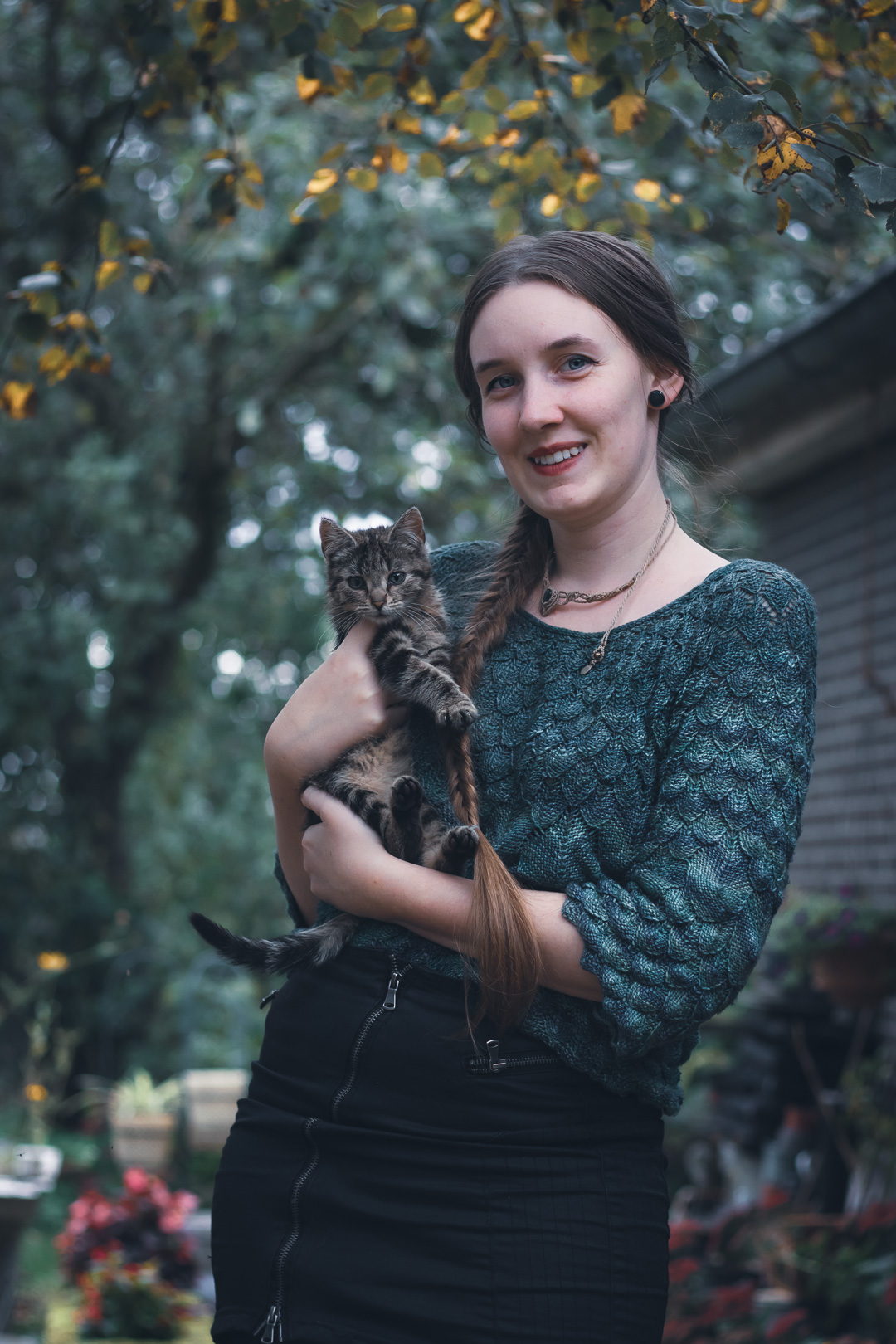 Linked at MeMadeMittwoch